Finden Sie hier eine erweiterte Beschreibung, die Steckerbelegung und Hilfe zur Diagnose!
This standard cable can be used either for an output or an input.
Conforms to IP67 when mated with ECU auxiliary socket
Cable insulation material : PVC
Use tag to identify the auxiliary position :
Identification tags are incorporated on either side of the auxiliary connector. These must be removed to identify the appropriate usage before connecting into the ECU.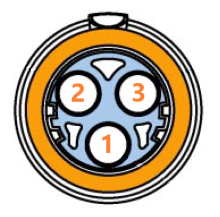 Pin
Description
Color
Section (mm2)
1
Output
Red
0.75
2

B-

Black
0.75
3

Input

(Output only possible with Premium Gen3)

Yellow
0.75
The Auxiliary cable can have multiple applications. It can be used for an output (ILAS-E, COLAS, ...) or for an input (Pressure sensor , switch, ...)
Depending the use, Input or Output, the voltage and the way to check is changing
OUTPUT AUX
Test points
Condition
Required value
Mesured value
Comments

1 - 2

Red - Black

Only for Gen3 Twin AUX :


3 - 2

Yellow - Black

Output is ON

B+

If the mesured value is below B+, it can indicate a resistance in the wiring.

Next steps :

check for oxidation marks in the connectors
check the continuity of the wires with ohmmeter (R<5Ω for correct operation)
check the solenoid (Colas, Ilas-E, ...)

1 - 2

Red - Black

Only for Gen3 Twin AUX :


3 - 2

Yellow - Black

Output is OFF

5V (detection voltage)

The ECU use this low voltage to determine if a load (solenoid) is connected or not.

Next steps :

check for oxidation marks in the connectors
check the continuity of the wires with ohmmeter (R<5Ω for correct operation)
INPUT AUX
Test points
Condition
Required value
Mesured value
Comments

1 - 2

Red - Black

Power ON

5V

Never connect the black wire to the vehicle's ground !

This 5V must only be used for a switch or sensor power

Next steps :

check for oxidation marks in the connectors
check the continuity of the wires with ohmmeter (R<5Ω for correct operation)

3 - 2

Yellow - Black

-

Input signal

In general, switching voltage is 0V to 5V analogic (sensor), up to B+ (switch)

For General Purpose Input use, the switching voltage depend of the configuration, and need to be checked in ECU setup

Next steps :

check for oxidation marks in the connectors
check the switch or sensor connected
check the continuity of the wires with ohmmeter (R<5Ω for correct operation)