The Haldex ModulT Air Disc Brake comes both left and right handed, it is important the correct hand is fitted in relation to the normal wheel/disc rotation.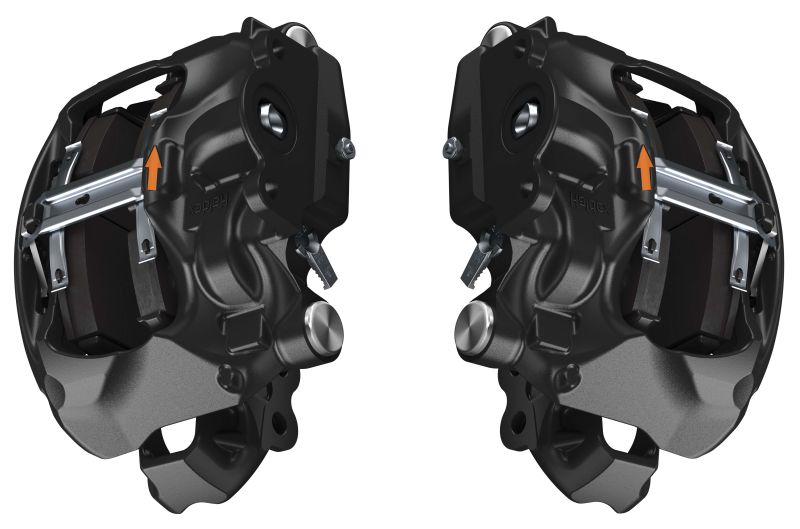 The ModulT enhances a floating monobloc calliper C and an integrated adjustment unit which compensates for brake pad wear. The unit, which is actuated by the mechanism lever A, presses the inner brake pad B against the disc, which then causes the calliper C to slide laterally, so that the outer brake pad D also comes in contact with the disc. The calliper moves on two stainless, lubrication free, slide pins E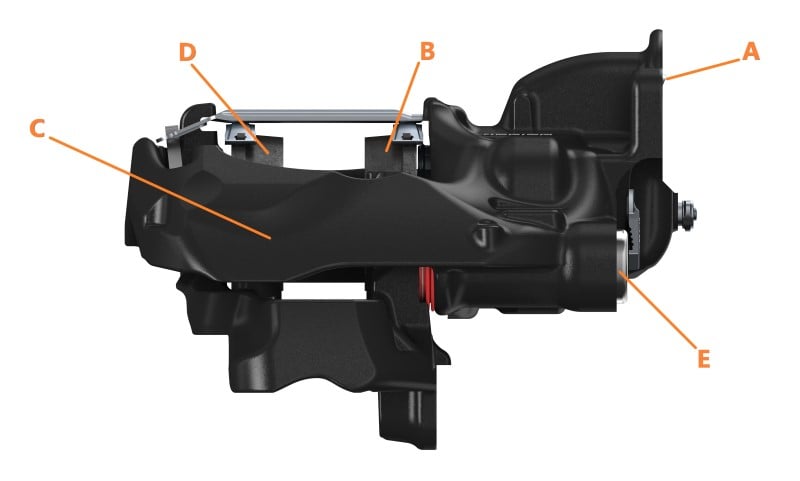 The large diameter single piston mechanism ensures even force distribution and support to the brake pad back plate. In addition, high efficiency and low hysteresis is achieved by the double roller bearings surrounding the lever.
Single piston mechanism has a similar force distribution as previous generation twin piston mechanism, making it also suitable for tougher applications.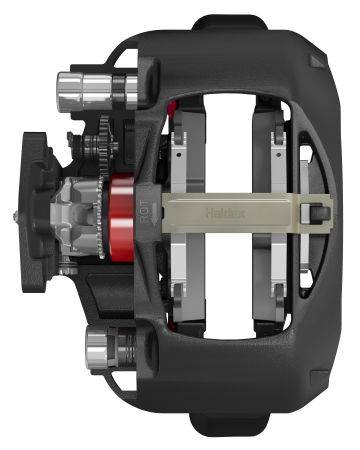 The Haldex ModulT Service Manual states the importance of regular ADB function checks to ensure continued correct braking function in operation. Service Bulletin (SB DB 010L) has been published to highlight the importance of this specific service check and if not already performed, it is recommended this check is carried out at the next available planned vehicle workshop visit. Failure to do so could compromise the continued correct ADB braking function in operation.
Regular inspection:
Check that the brakes function properly before driving and that they work effectively and smoothly.
Check that the service and parking brake function is effective by trying to drive the vehicle with the service and parking brake applied.
Make sure you have good lighting conditions.
Inspect visible parts of the brake and its components and look for:

Damage
Collection of debris
Corrosion
Overheating signs
Cracks in brake discs
Unusual wear
etc
Brake pads, min. lining thickness: 2 mm
Brake pad, max. uneven wear: ±1.5 mm
Brake disc, min. thickness: 37 mm*
* Note. always refere to vehicle/axle manufacturers recommendations.
Disc brake unit
DBT19LT
DBT22LT

Design rated max brake torque

18 kNm
20 kNm
Max axle load
9000kg*
For wheel size
19.5"
22.5"
Max. operation force
11 kN
Friction radius
149 mm
173 mm
Max. brake cylinder stroke
62 mm
65 mm
Nominal brake ratio
15.4 : 1
Mechanical efficiency
> 93 %
Running clearance (min-max)
0.7 - 1.1
Weight of complete disc brake unit, including pads
29 kg
32 kg
Disc
External diameter of brake disc
377 mm
430 mm
Total thickness - new
45 mm
Residual thickness - worn out
37 mm
Pad
Total thickness
30 mm
Backplate thickness
8 mm
Pad surface area (both pads)
294 cm²
318 cm²
Pad wear volume (both pads)
603 cm³
636 cm³
* Can also be used with 10 tonne axle loads dependant on application
Options