Even if the disc brake looks the same, axle application are important to know to ensure you will use the right kit for the right application
Select your axle application ...
Unauthorized spare part brake pads for the Haldex ModulT disc brake, sold under the name Haldex DBT 22 LT and SAF Holland SBS2220, have been found in the market. These copies have larger holes in the backing plate of the brake pads, see below, and do not provide the required amount of support to the projections on the thrust plate and whole mechanism as Haldex genuine spare parts.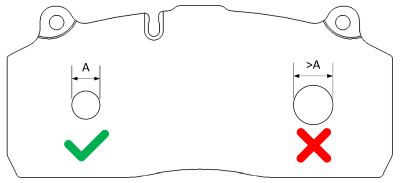 A brake pad for the ModulT air disc brake is shown above. In the brake pad, the standard hole size is depicted to the left, and the enlarged hole is shown to the right.
This information is available in the Product Bulletin (PB DB 045L)