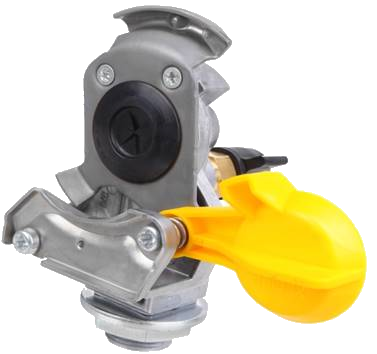 The coupling heads are installed in two-line air brake systems for connecting the Supply (Emergency) and Service lines of the towing vehicle to the trailer. Coupling heads with automatic shut are installed at trucks or on the back of trailers/dollies for connecting additional trailers.
Coupling heads with integrated filter clean the compressed air and protect the equipment against faults and defects.
The coupling heads comply with ECE/EC regulations and DIN-ISO specifications 1728. They can be coupled to coupling heads corresponding to the standard SAE J 318 or VG 74342.
Function - Installation - Technical data - Sectional drawings - Symbol
Stop lugs which prevent the coupling head "Emergency" (red cover) being coupled with the coupling head "Service" (yellow cover) are provided on the housing of the coupling heads.
If a trailer is coupled to a truck the sealing ring of the trailer coupling head presses the pressure piece downwards on to the rocker valve. The through passage at the sealing seat is opened and the compressed air flows through the coupled connection.
After uncoupling, the cover must be closed or the coupling head must be connected to the dummy coupling if you use variants without Protect-O.
By uncoupling or if the tractor unit breaks away and the coupling heads disconnect a spring presses the valve on to the valve seat and closes the passage. The Emergency line of the trailer exhausts completely through the "red" coupling head and the Emergency Valve (REV, TrCM, TrCM+ or Double Push-Pull Valve) initiates the emergency braking of the trailer. As an example notice the TrCM section drawing "uncoupled".
| | |
| --- | --- |
| | |
| | |
Medium
Air
Operating pressure
max. 10bar
Operating temperature
-40°C + 80°C
| Trailer | Truck (with check valve) |
| --- | --- |
| | |
DIN 74253
Standard
+ Filter
+ Test Point
Truck