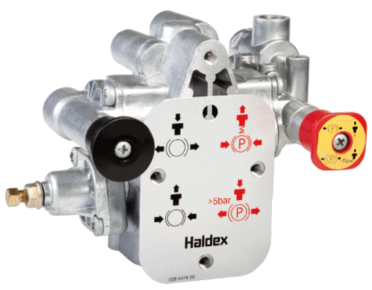 Park and shunt valve with integrated emergency braking valve for the service brake system, as well as a pressure protection valve for auxiliary devices (e.g. air suspension) for twin-line air brake equipment in trailer vehicles.
'Safe Parking' is an additional function which ensures that upon disconnection of the air supply line (red coupling) the trailer parking brake is engaged.
Function - Installation - Inspection - Maintenance - Technical data - Symbol
Valve

Shunt Valve

Black knob

Park Valve

Red knob

Trailer coupled

Yes/No

Operation Conditions

Service brake System

Park brake System

pulled
pushed (must be manually pushed)
yes
Drive
released
released
pulled
automatic pulled out
no
Trailer uncoupled/braked
Emergency function engaged
Safety function:
Released via overload protection valve
pushed
pushed
no
Shunting
released
released
pushed
pulled
no
Parking (uncoupled)
released
engaged
pulled
pulled
yes
Parking (coupled)
released
engaged
Warning - Danger!
Before starting the journey, the spring brake cylinder must be released manually by pushing the park valve.
The TrCM+ is fixed to the vehicle chassis with two/three M 8 bolts.
The control knobs must be easily accessible.
Not used ports must be plugged.
For painting/coating all open ports must be protected to avoid penetration of the paint/coat.
For fittings / push-in fittings refer to the instructions of the respective manufacturer.
System without pressure
Shunt valve (black button) must be pushed in (securing the trailer vehicle previous to this test), park valve (red button) automatically pushed out.
Initial charging
Apply pressure to port 1; the shunt valve (black button) must go into the operating position (jump out). The park valve (red button) remains pushed out.
Automatic emergency braking
Lower the pressure at Port 1 to 0 bar; the port 21 emergency braking must activate automatically.
Pressure protection valve
Instructions for adjustment may be found in the fitting instructions, order no.: 000 314 012.
Park brake valve (red button)
Apply pressure to port 1. park valve (red button) automatically pushed out, push the park valve (red button) in, at least 5.0 bar in the supply reservoir, pull the park valve (red button), port 2 (spring brake system) must vent down to 0 bar, vehicle braked.
According to legal registrating country requirements or the statutory regulations of § 29 StVZO. If defects are discovered, either during examination of the vehicle or when travelling, the valve must be replaced.
The cage filter 029 000 409 in Port 1 must be replaced when soiled or damaged.
Operating pressure

pe = 10 bar

Operating temperature

- 40°C - + 70°C

Medium

Air

Weight

ca. 1.8 kg

Pressure protection valve

DIN 74279 - C 6-22

Opening pressure

pe = ca. 6.2 bar

Closing pressure

pe = min 5.2 bar
| Port | Description |
| --- | --- |
| 1 | Inlet port (Red coupling head, supply line) |
| 1-2 | Inlet/delivery port (reservoir) |
| 2 | Delivery port (spring brake actuator) |
| 3 | exhaust (spring brake actuator) |
| 4 | control port (Yellow coupling head, control line) |
| 12 | must be connected to port 21 |
| 21 | delivery port (EBS/ABS) |
| 22 | plugged |
| 23, 24, 25 | delivery port (PPV = pressure protection valve, suspension) |
For more technical information see TÜV report No. KO250.4E in the documentation page
DIN 74253