Find here extended description, connector views, and help for diagnostic as well !
This standard cable can be used either for an output or an input.
Conforms to IP67 when mated with ECU auxiliary socket
Cable insulation material : PVC
Use tag to identify the auxiliary position :
Identification tags are incorporated on either side of the auxiliary connector. These must be removed to identify the appropriate usage before connecting into the ECU.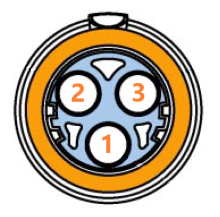 Pin
Description
Color
Section (mm2)
1
Output
Red
0.75
2

B-

Black
0.75
3

Input

(Output only possible with Premium Gen3)

Yellow
0.75
The Auxiliary cable can have multiple applications. It can be used for an output (ILAS-E, COLAS, ...) or for an input (Pressure sensor , switch, ...)
Depending the use, Input or Output, the voltage and the way to check is changing
OUTPUT AUX
Test points
Condition
Required value
Measured value
Comments

1 - 2

Red - Black

Only for Gen3 Twin AUX :


3 - 2

Yellow - Black

Output is ON

B+

If the measured value is below B+, it can indicate a resistance in the wiring.

Next steps :

check for oxidation marks in the connectors
check the continuity of the wires with ohmmeter (R<5Ω for correct operation)
check the solenoid (Colas, Ilas-E, ...)

1 - 2

Red - Black

Only for Gen3 Twin AUX :


3 - 2

Yellow - Black

Output is OFF

5V (detection voltage)

The ECU use this low voltage to determine if a load (solenoid) is connected or not.

Next steps :

check for oxidation marks in the connectors
check the continuity of the wires with ohmmeter (R<5Ω for correct operation)
INPUT AUX
Test points
Condition
Required value
Mesured value
Comments

1 - 2

Red - Black

Power ON

5V

Never connect the black wire to the vehicle's ground !

This 5V must only be used for a switch or sensor power

Next steps :

check for oxidation marks in the connectors
check the continuity of the wires with ohmmeter (R<5Ω for correct operation)

3 - 2

Yellow - Black

-

Input signal

In general, switching voltage is 0V to 5V analogic (sensor), up to B+ (switch)

For General Purpose Input use, the switching voltage depends of the configuration, and need to be checked in ECU setup

Next steps :

check for oxidation marks in the connectors
check the switch or sensor connected
check the continuity of the wires with ohmmeter (R<5Ω for correct operation)