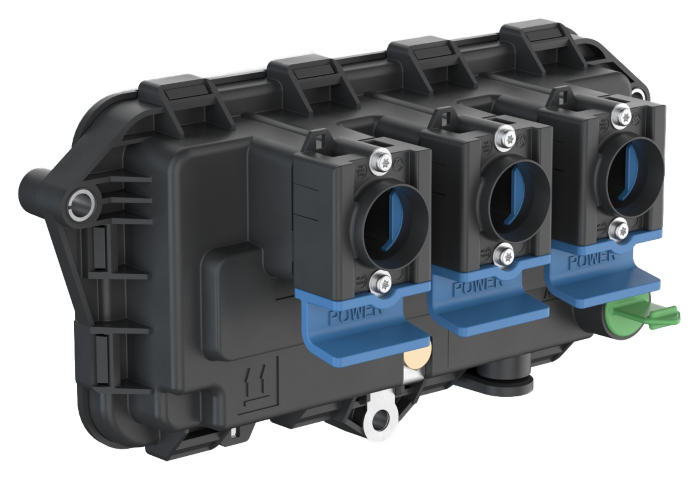 The EB+ CAN Hub is a separate ECU used on long trailers where the 18m cable length limit of towed vehicle in ISO11992 would be breached (Repeater function), or on road trains in order to route ISO11992 messages to two other ECUs (Router function).
It is connected to ISO 7638 connector from headboard, including the ISO11992 data commnunication. It acts as an intermediate CAN node, and then connects to the main EB+ via a 7-core cable of up to 40m length. A control line pressure sensor can optionally be connected to the port marked "AUX" on the EB+ CAN Hub, instead of connecting to AUX 4 or 5 of the EB+. This limits the number of long cable runs. When equiped, EB+ CAN Hub uses the intermediate ISO11992 CAN bus to send information from the pressure sensor when there is no electric control line available on the towing vehicle.
The third 7-pin connection is intended to be used for a following trailer/EBS.
It requires an Haldex EBS, EB+ Gen3 with software E741 or later, on the same trailer in order that configuration and diagnostic is performed correctly. In road trains, EB+ CAN Hub works with any EBS meeting the requirements of ISO11992, wich includes all trailers with UN R13 approval.
Configuration is made using DIAG+ software 6.22, see Software section of Trailer Application Guide