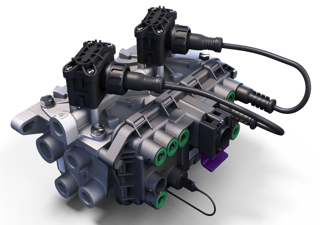 Talking about vehicle safety, ABS is today a well known function. It prevents from locking the wheels while braking, which would be an hazardous situation for the driver.
The very firsts anti-lock devices were developed for aircrafts in the 20's. But ABS as we know today on road vehicles started in the 60's.
In the commercial vehicles area, 1992 is an important milestone, because of the introduction of this system in the braking regulation. Haldex has provided ABS systems since years, with names like MGX, Modal, MODULAR and now U-ABS !
U-ABS is a 24 V brake control system for full, semi and centre axle trailers using air braking systems that fullfil the anti-lock requirement of ECE Regulation 13, series 11. It is a flexible and upgradeable anti-lock system for trailers, robust in design using well proven valve design from the Haldex Modular ABS product family which is easy to install.
Diagnostic and setup is available using the user-friendly Haldex DIAG+ tool.