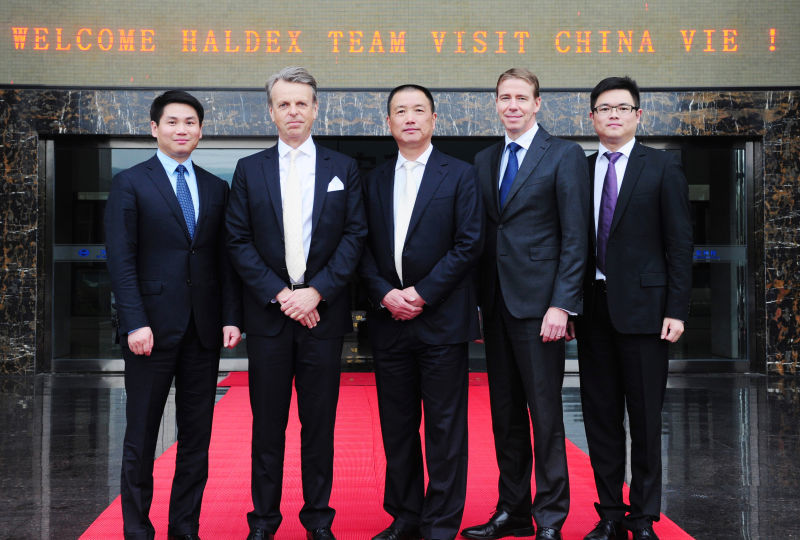 Haldex (XSTO: HLDX) and Zhejiang VIE Science and Technology Co., Ltd. (VIE) (SZSE: SZ002590) today announced a joint venture to design, develop, produce, and sell electromechanical brake systems for commercial vehicles with an initial focus on the electric bus market in China.
As manufacturers and governments seek solutions to combat climate change, China is seen as taking a global lead in the market for fully electric commercial vehicles. Electromechanical brakes is expected to be a fast growing niche within this market, especially supported by the recent strong development of the electric bus segment on the Chinese market. The Chinese market for electrical buses is forecasted to grow by 47% between 2015 and 2020, to over 141,000 vehicles produced during 2020. The new technology will offer customers a simplified and cost effective brake system layout; independent from pneumatic energy, with reduction of noise, improved braking performance, and better passenger and driver comfort.
Under the agreement, Haldex and VIE will set up a green field joint venture with the parties owning 50% each. The joint venture will operate under the name Haldex VIE (China) Electro Mechanical Brake Systems Co., Ltd. and be based in Shanghai, China. The joint venture will capitalize on Haldex' early development of electromechanical brake systems, not yet released to the market, and VIE's market leading position and customer base on the Chinese market. Both parties will contribute with the necessary financial and engineering resources to bring the electromechanical brake system to the commercial vehicle market. The initial focus will be on the growing electrical bus market in China and the joint venture is expecting revenue from the year 2020 and onwards.
The chairman of VIE, Xi-Liang Chen says: "Haldex is a world-renowned company with a long history in the global commercial vehicle industry, providing reliable and innovative solutions improving areas such as safety. Haldex has unrivaled expertise when it comes to R&D for electromechanical braking systems for commercial vehicles. VIE is a leading company in China providing R&D, manufacturing and marketing for commercial vehicle braking systems. The signing of this joint-venture agreement is a sign of strong cooperation." He emphasizes: "The establishment of this joint venture will improve the competitive strength of both companies in China and in the rest of the world. This is especially true for safety technology within the emerging market of electric commercial vehicles, which will guide the innovative development of electromechanical braking systems globally."
"This agreement combines our companies' strengths into a powerful player that has the potential to become the market leader of electromechanical brake systems.", says Bo Annvik, President & CEO of Haldex. "VIE is a strategic partner to us on the Chinese market and we value their expertise and strong customer relationships. Electromechanical brake technology has, for Haldex, long been an identified growth opportunity. With this joint venture we will have the capacity and market support to develop innovative, game changing technologies in a growing market segment. I'm also very pleased that Haldex is taking a leading position in eco-friendly technology that will be a key component in building a sustainable future of commercial vehicles with high safety requirements."
The joint venture will be subject to regulatory approvals. The joint venture has the right to distribute and sell the products developed by the joint venture in Asia Pacific.
About VIE
For more than 30 years, Zhejiang VIE Science & Technology Co., ltd. has focused on air brake systems for commercial vehicles, hydraulic brake and steering systems for passenger vehicles, electric control systems for automobile chassis, and sub-frame systems for passenger vehicles etc. In recent years VIE has relied on scientific and technological innovation. Through technology integration, VIE has actively developed auxiliary drive systems, networking intelligent transportation systems, as well as achieved electric wireless charging technology for passenger vehicles. By transforming from "manufactured by VIE" to" Intelligently made by VIE", VIE has become a world-class supplier of parts and components. VIE was formally listed in Shenzhen Stock exchange in 2011, and the company achieved a sales volume of 1.68 Billion RMB in 2015. For more information visit www.vie.com.cn
About Haldex
With more than 100 years of intensely focused innovation, Haldex holds unrivaled expertise in brake systems and air suspension systems for heavy trucks, trailers and buses. We live and breathe our business delivering robust, technically superior solutions born from deep insight into our customers' reality. By concentrating on our core competencies and following our strengths and passions, we combine both the operating speed and flexibility required by the market. Collaborative innovation is not only the essence of our products – it is also our philosophy. Our 2,140 employees, spread on four continents, are constantly challenging the conventional and strive to ensure that the products we deliver create unique value for our customers and all end-users. We are listed on the Nasdaq Stockholm Stock Exchange and have net sales of approximately 4.8 billion SEK. For further information visit www.haldex.com
Media contacts
Haldex
Bo Annvik
President & CEO, Haldex
Phone: +46 418-47 60 00
E-mail: bo.annvik@haldex.com
Catharina Paulcén
SVP Corporate Communications, Haldex
Phone: +46 418-47 61 57
E-mail: catharina.paulcen@haldex.com
VIE
Cheng Li-Xiang   陈利祥
Company Chairman of VIE
E-mail  clx@vie.com.cn
Haldex AB (publ) is required to publish the above information under the Swedish Financial Instruments Trading Act. The information was submitted for publication on Wednesday May 4, 2016 at 9.10 CEST.