DRYest® Air Dryer
products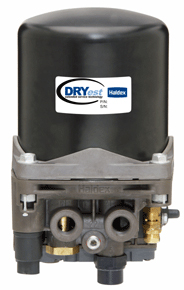 DRYest® Air Dryer
DRYest®Air Dryer - Extended Service Air Dryer for System Purge Application
Extended Service Air Dryer for System Purge Application.
Multi-Treatment Cartridge employs 5 stages of cleaning to ensure dry system air.
Integrated turbo protection.
Built-in heater prevents freezing and damage to the dryer.
Extra compact size allows for easy installation anywhere.
Integrated governor option increases dryers performance and reduces application costs.
Integrated muffler allows for superior quiet operation.
Notes
Fits in 12" x 6-3/4" x 6-3/4" Envelope. This includes 1/2" clearance needed for desiccant cartridge change.