Aircoil - Basic
Part no. 11960
item status Active
Product line Midland
12' Red Aircoil
Coiled, 1/2" O.D., reinforced, nylon tubing
Excellent coil memory and durability
Color-coded (red - emergency / blue - service); Meets DOT FMVSS 106 - (49 CFR 571, 106 & 49 CFR 393.45)
Designed for 150 psi operating systems
Resistant to attack by gasoline, diesel fuel, methyl-alcohol and zinc chloride
Male pipe - brass fittings
Heavy duty plated spring guards
Notes
Temperature range: -40° F to +199° F
Technical specs
| | |
| --- | --- |
| Pigtail Tractor End | 6" |
| Pigtail Trailer End | 6" |
| Fitting (Thread) Tractor End | 1/2 " |
| Fitting (Thread) Trailer End | 1/2 " |
| Temperature Range | 40° F to +199° F |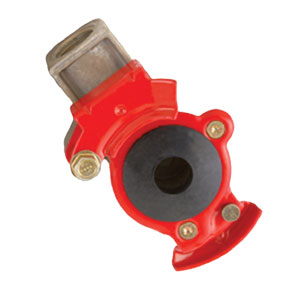 Aluminum Body / Steel Face Gladhands
Aluminumbody/steel face.
Economical to lower fleet maintenance cost.
Letter "E" diecast into the body of the gladhand for easy identification.
Interchangeable with competitive gladhands.
Heavy duty.
Steel face is zinc yellow dichromate and aluminum body is chromate conversion coated for corrosion resistance.
Internal filter comes installed to protect airline from contamination.