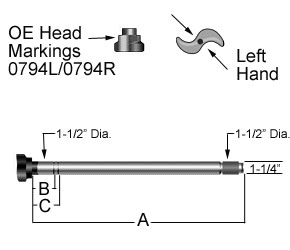 Camshaft
Part no. CS41362
item status Active
Product line Haldex
Dana Spicer with 12-1/4" Fast-Rise Brakes - Pre-1996
1-1/2" Diameter - 28 Spline
Nominal Head Dimension 11/16"
Notes
Use Bushing Kit CQ67382 - w/Nylon Bushing.
Use Bushing Kit CQ67383 - w/Bronze Bushing.
MUST USE WITH FABRICATED OPEN END BRAKE SHOES AND 1-1/2" DIAMETER ROLLERS.
WHEN CONVERTING FROM EARLY DESIGN FAST-RISE WITH 7/8" S-CAM HEAD, MUST REPLACE ALL CAMSHAFTS.
MUST USE WITH BRAKE HARDWARE KITS CQ67405, CQ67506 or CQ69006.
Technical specs
| | |
| --- | --- |
| Replaces | Spicer M12WKL20-233 |
| A | 23-3/16" |
| B | 2-7/32" |
| C | 2-21/32" |
| Notes | Left Hand |
| Nominal Head Dimension | 11/16" |
| Bushing Kit - w/Nylon Bushing | CQ67382 |
| Bushing Kit - w/Bronze Bushing | CQ67383 |