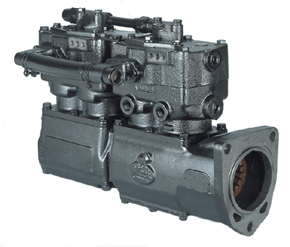 EL3200 Mack Compressor
Part no. EL14111X
item status Active
Product line Reman line
Remanufactured Mack In-Line, 6-Cylinder
Flange Mount, Gear Drive
Flange Discharge Type
Flange and Base Oil Drain
Water Cooled
Overall Height: 13.11 in.
Overall Width: 8.14 in.
Overall Length: 16.74 in.
External Shaft Length: .16 in.
Approximate Weight: 97 lbs.
Notes
Port orientation viewed from front.
Discharge and intake manifolds not supplied.
Service Units are furnished without governors and manifolds and may require head rotation and end cap rotation before installation or changeover.
When purchasing Unloader and Gasket Kits 2 are required.
Torque Nut to 150 ft. lbs.
Technical specs
| | |
| --- | --- |
| Head Rotation | Left/Left |
| Block Rotation | Left/Right |
| Application | Mack In-Line 6-Cylinder Engines |
| Notes | Crankshaft Oil Feed |
| OEM Part Number | N7311 |
| Core Group | 1400 |
| Overall Height | 13.11 in. |
| Overall Width | 8.14 in. |
| Overall Length | 16.74 in. |
| External Shaft Length | .16 in. |
| Bore Diameter | 2.75 in. |
| Stroke | 1.87 in. |
| Rated Displacement | 32.2 CFM @ 1250 RPM |
| Approximate Weight | 97 lbs. |