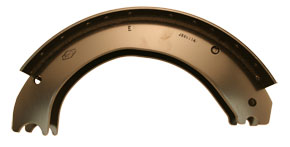 Relined Gripper Kit for 16-1/2" Eaton "ESII"
Part no. GC4719ES2G
item status Active
Product line Haldex
Relined Gripper Kit - Boxed
Single Anchor Pin
16-1/2" x 5"
Friction Code - FF/FF
Material Type - GG/GZ Combination
Brake Type - "S" Cam
GAWR - 23,000 lbs.
Notes
Contains two relined shoes and hardware kit.
Uses extended wear lining, cam and hardware.
Hardware Kit CQ65477 does not include "Horse Collar" Return Springs also available.
Hardware Kit CQ65445 includes "Horse Collar" Return Springs for Steer Axle.
Technical specs
| | |
| --- | --- |
| Width | 5" |
| FMSI Number | 4719 |
| Shoe I.D. | ES2 |
| Hardware Kit | CQ65445 |
| Includes Hardware Kit | Yes |
| Core Group | 4719NS |