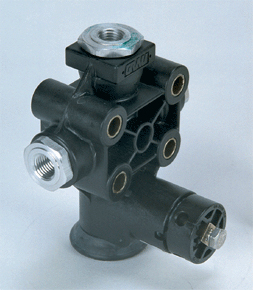 EGP Leveling Valve
Part no. KN27201
item status Active
Product line Haldex
EGP Low Flow Leveling Valve
Used to maintain vehicle height on an air suspended chassis.
Made of durable (EGP) Engineering Grade Plastic.
One valve can be used for left and right installations.
One valve can control two suspension bellows.
Low flow valve only for cab applications.
Notes
Variations in the height of the chassis resulting from different load conditions are equalized by inflating or deflating the air suspension bellows in proportion to the respective loads carried by the vehicle.
Exhaust Cover Repair Kit use part number RN10JE.
Technical specs
| | |
| --- | --- |
| Horiz. Arm Length | 8.5" (Max) |
| Notes | Without Dump and No Linkage Kit |
| All Ports | 1/4" NPT |
| Vertical Arm Length | 9.5" |