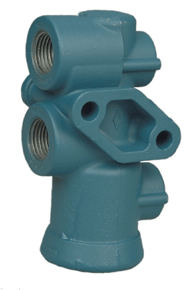 Tractor Protection Valve
Part no. 279692RX
item status Active
Product line Reman
Remanufactured Bendix® TP-3 CoreFree™
Generally mounted on the rear of the tractor cab.
Two-Line Non-Automatic Style.
Meets FMVSS-121 requirements.
Used in conjunction with dash mounted control valves.
Functions between 20 - 45 PSI
KN34060 and KN34060X Valves may also be used for this application.
Approximate Weight .8 lbs.
Notes
Repair Kit use part number 280858K.
Technical specs
| | |
| --- | --- |
| Tractor Service | 3/8" |
| Tractor Emergency | 1/4" |
| Trailer Service | 3/8" |
| Trailer Emergency | 3/8" |
| Functions Between | 20 - 45 PSI |
| Approximate Weight | .8 lbs. |