Trailer technology moves forward, the vehicles become smarter: this is a fact.
Behind all the possibilities offered by EBS products, we sometimes forget the braking system itself, the main safety system on the vehicles.
When a trailer manufacturer designs the trailer, he has a global view from the braking performance and reliability, to the extendable possibilities of the auxiliary functions.
The better way is to have both, without compromise!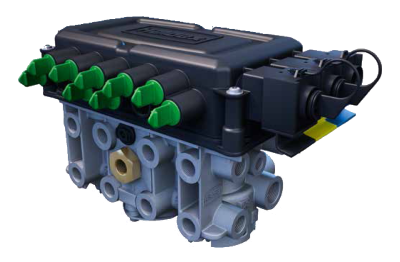 The EB+ Gen3 system provides the control of the trailer brakes for full, semi and centre-axle trailers.
The electronic load sensing and anti-lock functions are part of the functions of the Haldex EB+.
Furthermore, the EBS is compatible with either an electronic and pneumatic braking signal as well as pneumatical only.
In addition, EB+ Gen3 include the Stability system. This roll stability feature uses a lateral accelerometer to determine if the vehicle is close to its roll over threshold. Then, an automatically commanded braking is used to slow the vehicle below the roll threshold.
Auxiliaries are also on board: several auxiliary channels to achieve well known functions like Reset to Ride RtR or lift axle management with dedicated setup for front and rear lift axle valves.
The upgradable possibility is a key point, as some features may be added as retrofit (TPMS, Soft Docking, EB+ Infocentre, …). Also, the internal software of the Haldex EBS can be updated to include the latest developments.
If we talk about smart vehicles, this EBS system for trailers is able to communicate with external devices (telematic or fleet management systems), using TCAN. The Trailer CAN is a standard protocol that gives the ability to create discussion between devices on a trailer, with at the end a fantastic benefit for the fleets and owners.
Standard and Premium are the only variants, depending on the braking system design (2M or 3M configuration) or auxiliaries needed (up to 5 outputs and 5 inputs)
Discover now all EBS systems technical descriptions in Trailer Application Guide