Emergency Relay Valve (4 Port)
productos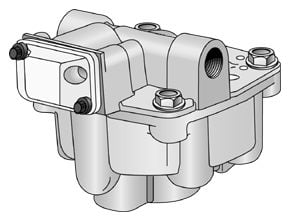 Emergency Relay Valve (4 Port)
Four-Port Emergency Relay Valves
Suitable for pre-121 trailers, converter dollies, or exempt trailers.
KN30100 has automatic bleed down feature.
Notes
Repair Kit use part number RN10HL.
KN30100 and KN30100X has 3/8"-18 auxiliary reservoir port on bottom of valve drilled and tapped for use in air hydraulic systems. Do not use them to control spring brakes.