IR w/2nd Ride Height HCV
produits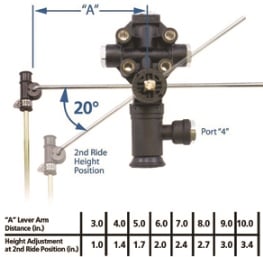 IR w/2nd Ride Height HCV
Immediate Response Height Control Valve with 2nd Ride Height
Provides a second ride height that is pre-set and is not variable to the weight of the vehicle
Minimum number of components to provide the second alternative height
Air pressure is never completely exhausted from the air bellows, saving wear on the suspension components
On buses, this operation can be tied to the door opening operation, so no additional motion is required by the operator
Notes
This valve provides the ability of raising or lowering the vehicle to a controlled second height position.
When air pressure is applied to port "4" of the valve, the valve goes to a set second ride position. The lever will appear at 35° in the 2nd ride position in neutral.
Setting of the 2nd ride position is accomplished by the lever arm length according to the table provided.