Haldex's innovative products and solutions are offered to the truck and trailer Original Equipment Manufacturer (OEM) market under two product areas followed by an attractive aftermarket offering. Haldex's products are marketed globally through three regional sales units. Haldex has a global and efficient manufacturing and distribution set-up close to customers.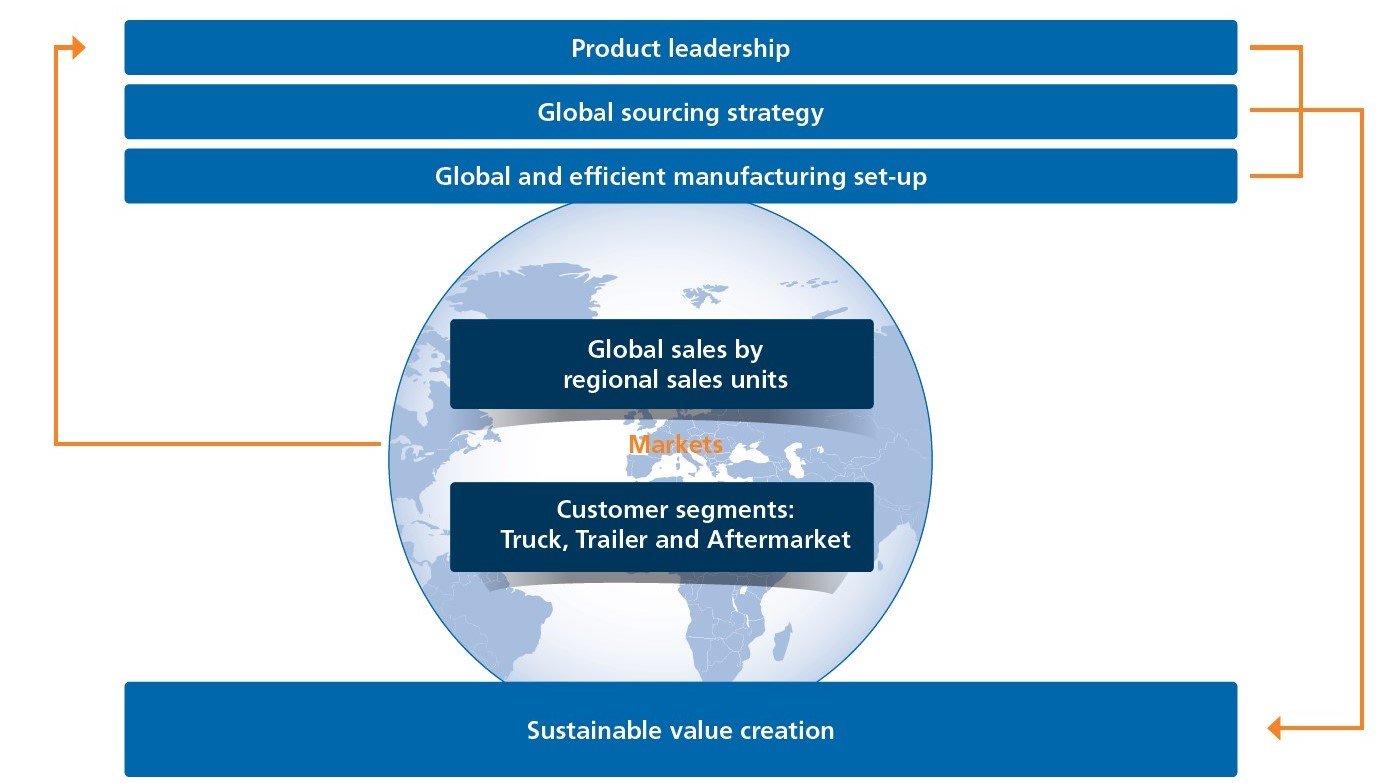 Global Sales by Regional Sales Units
There is a global demand for brake and vehicle suspension pro­ducts stemming from the increased use of commercial vehicles for transportation of goods, which is in turn driven by global growth. Although trucks and trailers are available all over the world, there are major differences in vehicle configurations and regulations between the geographic regions. The product mix differs significantly due to different technical developments in the regions' respective vehicle fleets. Haldex operates and monitors business in three regional sales units: Region Americas, Region Europe, and Region Asia.
Europe has the most technologically advanced vehicles, with a high technology content per vehicle. Disc brakes dominate and only a minor percentage use drum brakes. Electronic Brake ­Systems (EBS) are common. The high level of technology is partly a result of strict safety regulations and high environmental standards. Customers are focused on high-quality solutions, weight opti­miza­tion and requirements for low maintenance frequency.
The Americas is Haldex's largest region, where the US is the largest market for the company. The US has the largest vehicle fleets and many vehicles are driven from coast to coast under road conditions completely different to those of vehicles driven in urban areas. Drum brakes and ABS continue to dominate the market, however, disc brakes are rapidly growing for new vehicles. The major fleets have greater influence on vehicle design than in Europe. This means that Haldex sells not only to manufacturers, but also in­directly to the fleets. The focus is on high-quality solutions, optimized weight, long service life and generous warranties. The major technology shifts the industry is expecting is the transition to disc brake technology, which has begun and is the dominant techno­logy on truck and is following suit on trailers.
Asia is the largest market for commercial vehicles, yet the smallest region for Haldex. Generally, Asia is still at a lower maturity level, but legislation initiatives containing new requirements for brake and suspension systems, for instance in China, are driving the need for advanced technologies.
Customer segments
Haldex creates value for customers throughout the lifetime of the vehicle. Innovative products and solutions are offered to the truck and trailer OEM market followed by an attractive aftermarket offering, including sales directly to fleets. Approximately 49 percent of Haldex's revenue relates from sales to OEM production, and 51 percent relates to the aftermarket.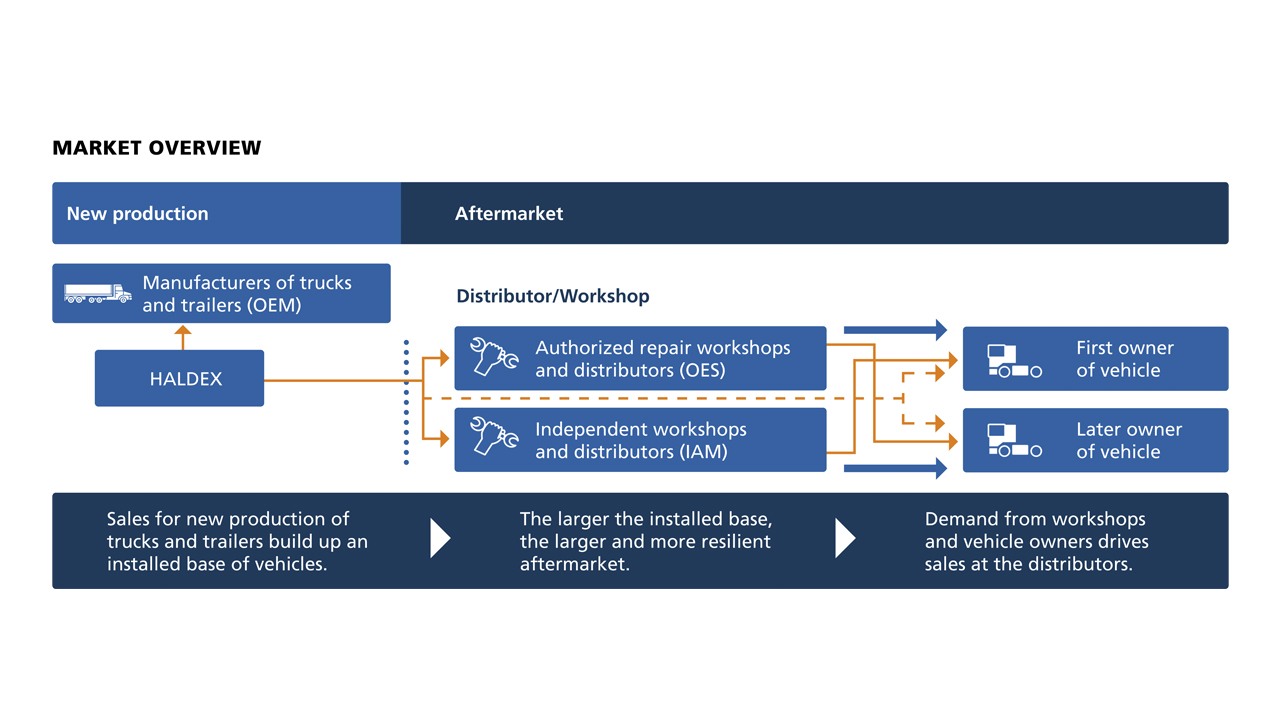 New production
Haldex offers innovative solutions that respond to customers' technical challenges and performance requirements. The ­approach is to build healthy and long-lasting relationships with a large number of OEM customers and large fleet customers around the world.
An important success factor for suppliers to the automotive industry is that the OEMs select their products for future vehicle models. By installing the products in new production, conditions are created for achieving large volumes over a long period in the more profitable aftermarket.
Haldex regional strategic sales address OEM customers to fit Haldex products, in either standard or optional position, into their future vehicle models. New sales to vehicle manufacturers is a long process with several milestones to pass. To qualify as a supplier for OEM manufacturers, high technical innovation capacity and high-quality products are required. Price is also a decisive factor in OEM sales, which is why Haldex focuses on selected product and market niches to increase its competitiveness. Success requires a long-term strategy, significant investments and close customer collaboration. When successful, Haldex becomes a supplier for many years to come, both for OEM production and the after­market. Haldex often has joint development projects with major OEM customers, where new concepts are solutions are tested with the ambition that Haldex's solutions will become part of the future serial production.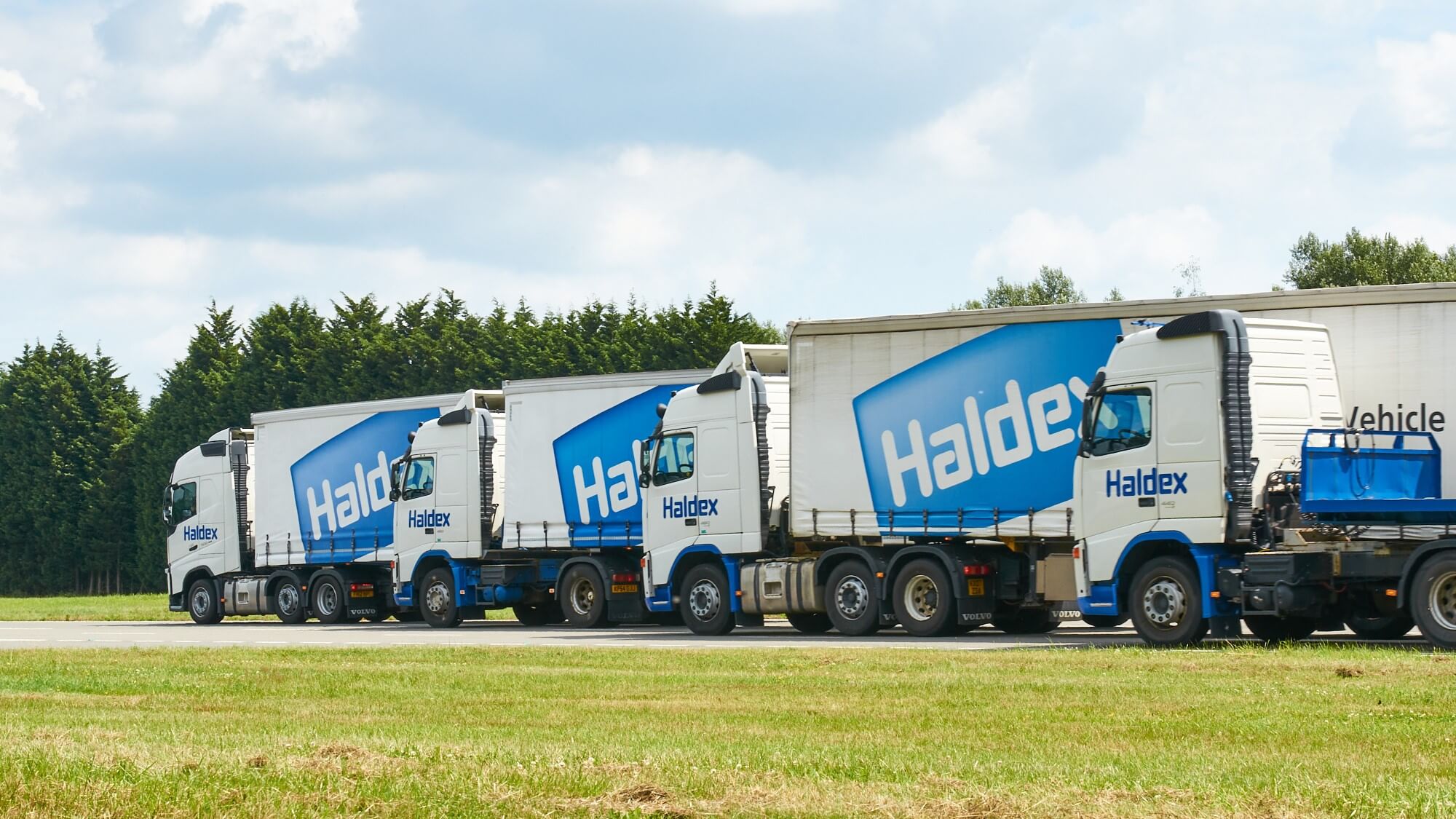 When Haldex has not gone through this development process and is not the standard supplier, there is still an opportunity to provide products due to the fleet pull-through activities, which then create the demand for the optional position for products at the OEMs. Fleet-pull-through is the practice of a large fleet insisting on a product offering at the vehicle manufacturer that is consistent with their requirements, to the exclusion of the standard products offered on that particular vehicle.
Truck manufacturers, including bus manufacturers, account for 15 percent of sales and generally place larger contracts than trailer customers. Trailer customers, 34 percent of sales, on the other hand, have shorter lead times from project start to production and are thus characterized by faster launch times for Haldex and aftermarket sales.
A critical success factor is a growing base of vehicles with ­Haldex products installed. Marketing and sales are not only directed at OEMs but also directed at fleets to build brand awareness to ­create demand for Haldex premium products in the Aftermarket segment. End users have different needs and make different demands on distributors' ranges. Haldex endeavors to influence demand at all stages in order to persuade end-customers, i.e. fleets, distributors, dealers and independent service centers, to demand Haldex products from the distributors. In the Americas, for example, fleets can specify different components to the manufacturer of a truck or trailer, making them an important indirect customer.
Aftermarket
Haldex aims to offer a best-quality aftermarket service responding to customers' needs and minimizing the total cost of ownership. Recognizing the significant contribution the aftermarket business makes to overall profitability, Haldex is committed to growing the depth and breadth of the aftermarket product offerings to bring additional value to key customers.
In the aftermarket, vehicle manufacturers have their own service organizations, known as Original Equipment Suppliers (OES). In many cases, the agreements are linked to those signed by the OEM customers. Of equal significance are independent market distributors that are either workshop chains or independent workshops (IAM). The aftermarket accounts for approximately 51 percent of sales.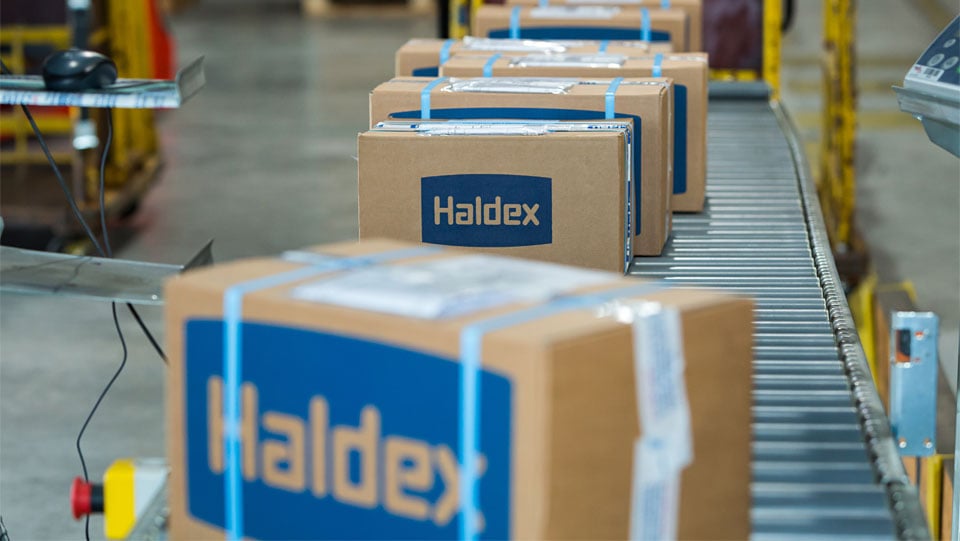 Customers' needs change over the life of the vehicle and ­Haldex's offering for servicing and spare parts is adapted to the remaining life of the vehicle. During the first years, parts with high durability are generally in demand. The older the vehicle becomes, the shorter the period it is kept by each owner, and hence affordable products are prioritized to match the remaining period of owner­ship of the vehicle. Haldex has therefore extended its range of products under different brands to include spare parts of the same high quality, but with a shorter lifetime. In addition, Haldex also offers remanufactured used parts, which is a cost-efficient and eco-­friendly way to reuse components.
For the aftermarket customers, it is important to maintain a high level of service and availability of spare parts being available. The total cost of ownership is a very important factor for vehicle owners. Being able to minimize the occurrence of unplanned downtime due to defective parts and long delivery times is of importance to the customers. For this reason, Haldex maintains a field service team and a product hotline to assist, instruct and train customers on the use, maintenance and troubleshooting of its products.