Haldex Aligned to Market Trends
As a specialist in brake and suspension systems, Haldex is part of the rapid technology development in the automotive industry. Electrification, digitalization and increased focus on safety and climate change are strong global trends that are transforming the commercial vehicle industry.
Haldex's market is affected by the requirements of customers and legislation. Technological development towards electrified vehicles has accelerated. There is increased focus on safety and environmental awareness, combined with the increasing importance of vehicle dynamics and lighter vehicles to reduce fuel consumption. The commercial vehicle industry is facing a technological revolution in the longer perspective, but the development of current technology is continuing in parallel with a focus on constantly minim­izing energy losses and vehicle weight while optimizing performance. Haldex is well positioned to take the lead and develop solutions that meet customer challenges and exceed customer expecta­tions.
Increased autonomy and safety
Growing cities and population increases drive the need for more transport and vehicles. When density on the road increases, ­vehicle safety becomes more important, which favors more techno­logically advanced brake systems.
Improvement of traffic safety is an ongoing development and many vehicle manufacturers have established a "zero vision" ­target in terms of fatal accidents. With increasing demand for road transportation and thereby higher traffic density on the road network, higher demands will be put on the vehicle safety systems such as the brakes and vehicle dynamics control.
The technology shift from drum brake to disc brake in both North America and China as well as legislation in China for automatic brake adjusters on newly manufactured vehicles will continue to have a positive impact on Haldex's business. In markets outside Europe and North America, there is a clear trend towards customers increasingly demanding solutions at a more advanced technical level. This is especially true in large markets such as India and China. In countries with poor road network quality, trucks without a trailer are safer and most common. However, increased needs for transportation of goods also drives demand for better and more efficient usage which in turn drives demand for commercial vehicles. Increased quality of the road network also leads to different logistic models for transportation and an increased need for commercial vehicle combinations. This trend is positive as ­Haldex has a strong market position for trailers. Demand for more technically advanced vehicles also benefits Haldex. With increased needs for sustainable and efficient vehicles, Haldex solutions are becoming more attractive.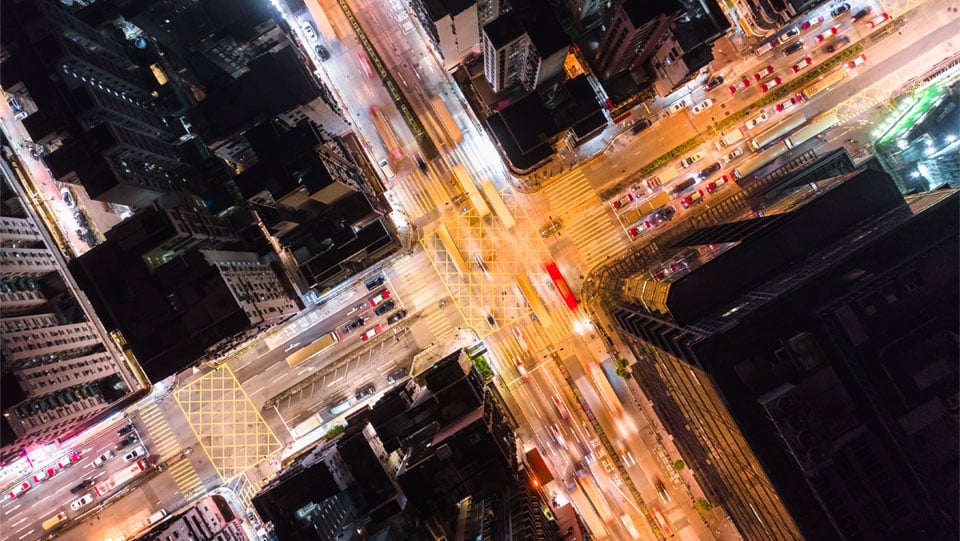 Technological trends – Electrification, Digitalization and Environmental requirements
Haldex is well positioned to meet the technological trends in the market. Technological development in the industry is currently ­focused and driven by digitalization, electrification and sustainability, which will drive customers' commercial agenda in the years to come. Electrification has risen in importance as all stakeholders currently focus on meeting the need for new emission standards. This technologically driven change opens up the way to new system architectures not only of the driveline, but also new types of energy efficient braking systems. Electrification also results in a higher technological content within the braking system.
New technology transforms the use of data and drives increased connectivity, enabling development of load optimization, increased resource efficiency and enhanced safety. Digitalization is also expected to change the market structure and various roles in the industry by an increased offering of features and service solutions. Vehicle manufacturers are adapting their business models to utilize strategic partnerships to gain access to needed technology rather than investing heavily in each and every area required to ensure their successful future. Innovative suppliers such as Haldex are positioned to emerge as the "partner of choice" due to the product and system offerings enabling the OEM electrification and autonomous vehicle progression.
Haldex is working in the front line developing new brake technology to meet these future demands on both trucks and trailers and to support the vehicle manufacturers with an open system architecture approach for optimized performance. These trends will bring major environmental benefits while also paving the way towards new potential markets for Haldex.
As a supplier to the commercial vehicle industry, Haldex aims to facilitate the green and digital transformation of the transportation sector. On the next page are two examples of Haldex' disruptive braking technological developments and how they are aligned to meet market trends, but also transform the industry.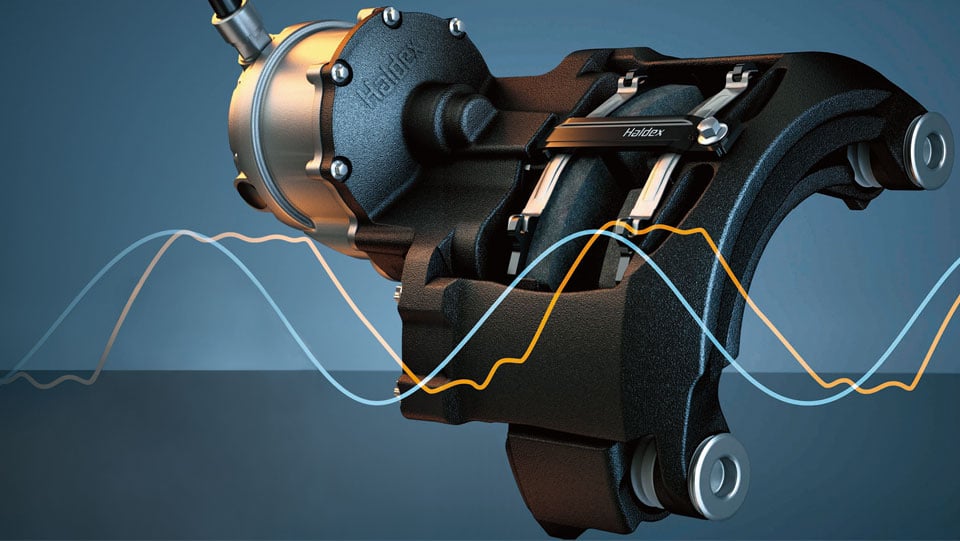 Electrification in focus for trucks and buses
Haldex's development of an Electromechanical brake (EMB) is a disruption in commercial vehicle braking systems.
The brake system is safer and provides better braking controls and a significant performance improvement compared to conventional air braking systems. The solution leads to significant energy savings and a very positive climate impact through lower CO2 emissions and reduced noise in the urban and construction environment.
EMB also involves a lower total cost of owner­ship with 50% less components compared to a conventional pneumatic system and enables an extended range due to weight and energy consumption savings. The benefits of EMB have been verified through customer tests.
Electronic Brake System for trailers – entry point to a digital future
To further optimize the utilization of trailers in terms of uptime and availability, connectivity between systems on a trailer as well as to remote fleet management systems is under constant development. Historically, a vehicle OEM would develop a specification and send it out to the tier one suppliers. Now there are more collaborations; more companies working ­together to jointly develop technological based systems. That is where Haldex fits in, working with manufacturers as a true development partnership.
The new Electronic Brake System (EBS), EB+4.0, brings parking brake control into electronic management and offers a new modular and customizable approach to customer-specific functions. The system serves as a platform for different product families with the ability for multiple systems to communicate with each other to monitor, transmit and act upon data. This product offering is a clear example of how Haldex is setting new standards for trailer braking and suspension systems.